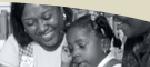 Reading with your child
Tips for parents of preschoolers
Tips for parents of Kindergartners
In Spanish
Consejos para padres de niños en preescolar
Consejos para padres de niños en el jardín de infantes/kindergarten
Keeping Your Child Safe 
Chance of a Life time: Keep your child lead-safe
What you need to know about Lead poisoning
Transitioning to Kindergarten
Transitioning to Kindergarten Tool Kit
 11 Tips for Kindergarten Parents
Helping your child develop
Help your child develop muscle coordination by letting your child:
draw letters or numbers in the sand or on the sidewalk with a paint brush and water
use puzzles
use clay or dough
use crayons, scissors, snaps, buttons, zippers
run
catch a ball
hop on one foot and two feet
Help your child develop independence by letting him/her:
make simple choices
help choose his or her clothing
perform simple household tasks
dress him or herself when possible
Have your child find letters of his or her name in books, magazines, or signs.
Help your child sort things by size, shape, and color (clothing, buttons, dishes).
Count seeds, pennies, stamps, M&M's or any other objects.
Let your child locate food items in the grocery store by looking at the pictures and the labels.
---
Additional Resources